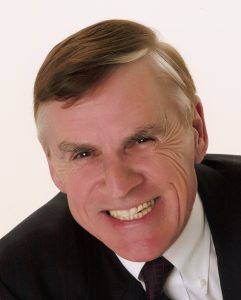 In my high school days, my summers were spent working electrical construction. My father had recently started Atlantic Electric and he wanted me to learn the business. So he put me out in the field and over the years I worked for numerous foreman. One of those foreman was Paul Welborn. You could tell back then that Paul was different from the other guys I worked for. He seemed to be destined for bigger things. After a few years, Paul moved on. I lost track of Paul but he certainly went on to bigger things. He worked for the Federal government for 35 years rising to become the director the Supply Department for the Naval Weapons Station. He was chosen by the Secretary of Defense to attend the Naval War College. He earned his Masters degree.
After 35 years in government work, Paul retired and started doing consulting work. That's when we reconnected. By that time, my brother and I had bought out my father and we were doing ok.  Paul started coming by on occasion and we would start talking. I was reluctant to take on a consultant because I was a little skeptical of consultants. But eventually Paul overcame my reluctance and we began working together. Boy was that a good move. Back in my high school days when I was working for him, Paul taught me a lot of things about electrical work. But since that time I had gotten a lot smarter. I was now an engineer with an MBA. I had been running my own business for several years. But the longer I worked with Paul, the more I realized that all these years later he was still teaching me. Paul quickly became one of the most liked and respected guys in the company. He organized our office meetings and ran them. Things that we should have been doing long ago but never got around to.  He had the ability to get his point across without making people angry or raising his voice. Paul was also our business development manager and began calling on our customers. Again, this is something that we should have been doing years ago but never got around to. I was so proud to have Paul representing our business to the outside world. I knew people would see Paul as a class act and maybe they would think we were too.  At times we would be in meetings with customers and I would tell them the story about how I used to work for Paul some 40+ years ago. As soon as I started that story, Paul would roll his eyes and cringe. Professionally, Paul's loss will be a blow to all the people who worked with him.
But more importantly, Paul's loss is a deeply personal loss. Working with Paul and being friends with him over the last couple of years, I came to greatly admire and respect Paul – not only for his business savvy  but even more so for his personal integrity. His love and commitment to Winkie and their marriage was so clear. He had strong political views but did so without being confrontational. When Paul told you something, you could count on it. He carried himself with a quiet dignity that few people ever achieve. Personally I am losing a great friend and role model.
A few months ago Paul came to me and told me he had cancer. During these last few months, Paul taught me one last lesson. He showed me how to face adversity with dignity. He never complained about his fate. He accepted it as God's will. He continued working long after we told him he needed to focus on his health. And when he was called home, he went in peace. I know he heard God's voice saying, "Well done thy good and faithful servant."
Thank you Paul. Thank you for all you've taught us, the dignity you've shown us, and the friendship you've given us. You will not be forgotten.
Lee Richardson
August 24, 2019